Housewares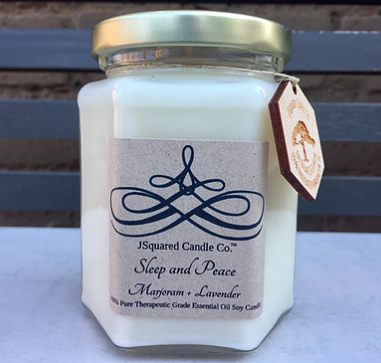 JSquared Candle Co.
FRIDAY & SATURDAY
JSquared Candle Co. Our Mission is to promote Life Balance is Essential by using 100% Pure Therapeutic Grade Essential Oil Soy Candle. All of our candles and hand & body scrubs are handcrafted by Jeff and Jeff in Bloomingdale, DC using only all natural ingredients.
Handmade Habitat
FRIDAY & SUNDAY
Handmade Habitat is an all natural soy candle and beauty goods company for slow, mindful living. Consciously crafted to be healthy for the body, home, and Mother Earth, we use eco-friendly, all natural ingredients in our candles, bath salts, and roll on perfumes, and mindfully scent each of our goods to pair with mantras and yoga poses to help you live a more purposeful and rested life. This season we are proud to donate a portion of sales from our holiday line to Friendship Place, a nonprofit in Washington, DC that helps people experiencing or at risk of homelessness to attain stable housing and rebuild their lives. Because everyone should have a place to call home.
Old Town Suds
FRIDAY, SATURDAY, & SUNDAY
Old Town Suds makes handmade cold processed beer, wine, and chocolate soaps all made with ingredients you can eat. Our best sellers are made with beer, wine, chocolate, absinthe, whiskey and moonshine. We try to hit everyone's guilty pleasures through our handmade cold processed and liquid soaps. We work with local Virginia vineyards, DMV breweries and Franklin County moonshiners to acquire our taste tested supplies.
The Neighborgoods
FRIDAY, SATURDAY, & SUNDAY
The Neighborgoods creates fun-loving and witty food-themed gifts such as dish towels, baby onesies, greeting cards, notebooks, and more! You'll be able to find unique gifts here for all of your foodie loving friends and family.
Maré Naturals Handmade
FRIDAY
Maré Naturals makes all natural skincare and home goods made with Ethiopian beeswax and honey. Following our philosophy of clean living, Maré uses only natural ingredients in all of its products and never adds any chemicals, additives, or fillers. All of products are handcrafted in Washington DC in small batches to ensure consistency and quality
BicycleTrash
FRIDAY
BicycleTrash is a DC-based brand of gifts for bicycle lovers and beer enthusiasts. Durable goods and accessories are handmade by owner and maker Topaz M. Terry, using original designs from locally sourced premium quality bicycle trash. Current items in production are belts, bags, wallets, bottle openers, and bottle carriers. Tree ornaments and wreaths are also in production for the holidays.