Cindy Liebel Jewelry
SATURDAY
My jewelry brand offers an eclectic infusion of modern and bohemian jewelry with a focus on sustainability and traditional and modern processes. Inspired by architectural and geometric forms, I thrive in creating unconventional, eco-chic style designs, to reflect individuality and evokes an emotion to last a lifetime.
Cultured Concepts
FRIDAY, SATURDAY, & SUNDAY
We design and create a unique collection of distinctively handcrafted beaded jewelry pieces with color tones and styles that range from subtle, minimalist and delicate to bold and exciting.
Holly Blue Jewelry
SUNDAY
Holly Blue Jewelry creates classic jewelry for everyday wear. Designer, Holly Deutsch utilizes traditional metalsmithing techniques and each piece is handcrafted locally. The collection incorporates sterling silver, gold filled and vermeil as well as semi-precious gemstones.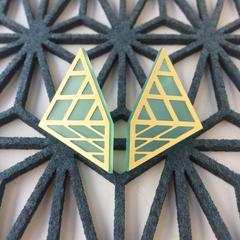 Off on a Tangent
FRIDAY & SATURDAY
Off on a Tangent transforms iconic architecture and travel landmarks into unique and stunning jewelry. Founded in the Spring of 2016 by Alissa Werres, an architect turned jewelry designer, Off on a Tangent combines her love of architecture, travel, and digital fabrication into jewelry. The pieces in each collection are intended to serve as catalysts for engaging conversations about the architectural design that inspires them.
Sarah Cecelia
SATURDAY & SUNDAY
Sarah Cecelia is a line of jewelry and metal goods handcrafted in Washington DC. The collection includes jewelry, accessories, barware and holiday ornaments using a range of metals. Sarah got her start in metal a few years back when a beloved necklace fell apart. Convinced that she could make a replacement herself, Sarah hit the library. Helped along by a sculpture background and a lot of trial and error a collection of delicate, feminine, and easy to wear jewelry emerged. Since then Sarah Cecelia has grown to include an ever evolving collection of metal goods.
Kicheko Goods
SATURDAY & SUNDAY
Kicheko Goods is a social impact jewelry brand, founded by Sarah Bayot, and based in the District of Columbia. Meaning "laughter," in Swahili, Kicheko's designs are distinctive in nature. Concepts for our small batch collections are inspired by geometry, nature, relationships, creative conversations and travels. Kicheko's aesthetic shares an unrefined boldness, sophisticated earthiness and playful simplicity. Every piece purchased equals one month of school for a child in the Democratic Republic of Congo.
Sharlaine Anapu
FRIDAY
Studio fabricated jewelry, unique and one of kind designs designed and fabricated solely by me. Pieces include my signature etched dog tags, earrings, cuffs, necklaces and rings.
Circuit Breaker Labs
SATURDAY & SUNDAY
Scientist and artist Amanda Preske transforms discarded electronics into funky wearable art and home decor. Working mostly with circuit boards, Amanda saves them from the landfill and combines them with epoxy resin to create miniature electronic worlds. Her work ranges from jewelry and accessories to items for gentlemen like cufflinks and tie bars, plus fun holiday decor and art pieces.